Almost all the Apple users out there have one common complaint and that's the headache they have to suffer when they need to transfer files, download videos or manage data.
Apple might be one of the best and the most luxurious brands out there but when it comes to transferring and handling data, well, here Android takes the lead.
Now, it is but very obvious that you cannot change your phone or iPad just because of these minor but sometimes major issues which is why here we are with a solution for you.
Today we are going to review amazing software for you that is the only solution for all the Apple users out there and here by that software we are referring you to none other than IOTransfer 3.
Table of Contents
What Is IOTransfer 3 And How It Works?

1] How to Use IOTransfer 3?
2] Other Features

YouTube Downloader:
Convert Heic to Jpg:
Clean iPhone Feature:
What Is IOTransfer 3 And How It Works?
IOTransfer 3 is basically a user friendly iPhone/iPad manager that helps people in transferring data from one place to another easily. With the help of this software you can even download videos from YouTube, you can download pictures, music and almost every other thing that you want to download.
IOTransfer 3 comes with several benefits and features such as one click transfer, powerful file management, smart data cleaning and data backup. It's like a true problem solver for all the Apple users out there and it's so far the best iPhone transfer software that is extremely easy to use.
1] How to Use IOTransfer 3?
Using IOTransfer 3 is very easy, you just have to download this software and install it on your computer. Just make sure that there is enough space on your computer for the software.
After that you just have to plug in your device with the computer and then all the contents and files on your iPhone/iPad will pop up on your screen.
You can then easily shift the files from your computer to your phone or shift them from your phone to your computer just as you like it.
The best part is that even if you want the facility of wireless transfer then yes, IOTransfer 3 will again come in handy to you here. You just need a good internet connection to transfer your data wirelessly with this software.
2] Other Features
YouTube Downloader:
Let's admit the fact that we all at some point wished to download a particular YouTube video on our phone but we failed.
However, now you don't have to worry about it because IOTransfer 3 is here to solve your YouTube downloading problems. In fact with the YouTube video downloader, you can also convert the videos to other formats like mp4 and mp3 etc.
Convert Heic to Jpg:
With the help of IOTransfer 3 you can convert all of your heic images to jpg that too in a jiffy. Yes, you read it right, you can now enjoy using your iPhone to the fullest with the help of IOTransfer 3 because this software is here to fix all your problems.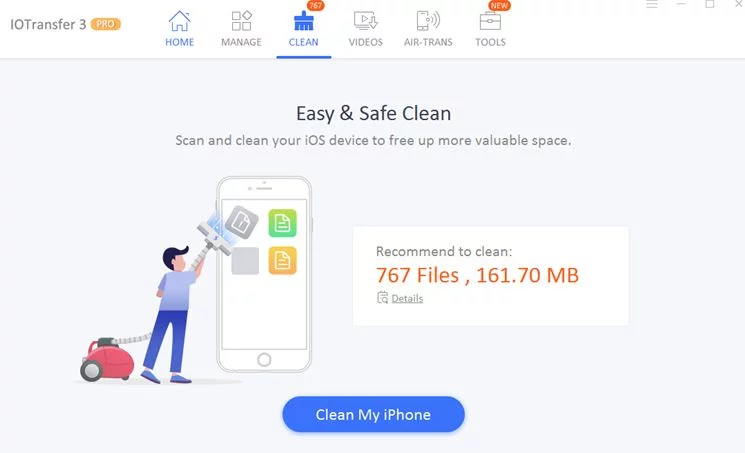 Clean iPhone Feature:
If the storage of your iPhone is full and if you don't want to delete any applications etc then use the IOTransfer 3 for cleaning up your phone and making some extra space for your files without letting you delete anything.
Overall Verdict
IOTransfer 3 is a software that deserves 10/10 rating because yes, it is that amazing. The features, the functions, the ease and the comfortable access is something really appreciable about this software.
Honestly, all the iPhone/iPad users must have this software for data security and data management. It's an app worth a try!